"Working with standards should spread like an oil slick"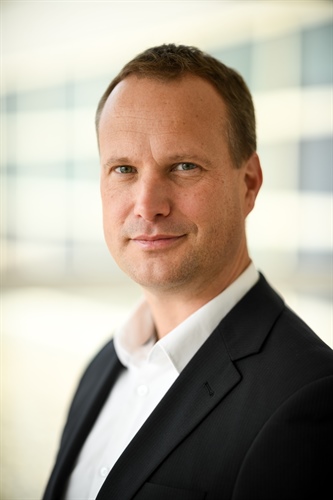 "When you want to do business successfully, you have to cooperate with other companies. For companies to understand each other, they need to speak the same language. GS1, one of Fresh Upstream's initiators, supports this by issuing unique identification codes in the world of food. According to Jerry Tracey, retail sector manager at GS1, more awareness of the importance of standardization is needed.
According to Tracey local solutions are no longer sufficient. "But how do you get this transition going? At GSI we hardly have any contacts with companies that don't already work with standards. Fresh Upstream was set up to involve them too."
Bar code
GS1's most common code consists of 13 digits and is called GTIN (Global Trade Item Number). The bar code, introduced 45 years ago and now very well-established, is the translation of this GTIN into a series of vertical lines with different thicknesses that can be scanned by a computer. The bar code is now on all kinds of product packaging, ranging from food to make-up items. "The GTIN code remains the key to information, whether or not it is processed in a bar code or a (RFID-)chip. "
According to Tracey, linking information to a unique code is becoming more and more important. "Among other things, new European legislation has led to a sharp increase in the demand for information about products. That is why it is time for the next step."
What Tracey is referring to, is that more information should be exchanged between more links in the chain. "Not only between producer and retailer. But also, for example, between supplier and producer. This includes suppliers of fresh products. For this you need standards."
Uniformity
Because a lot of information has not yet been digitized, this constitutes quite a challenge. "Just think of all producers who still receive information from their suppliers in a variety of terms, formats and codes. And think of all information in PDFs! This makes it very difficult for them to process that information. Unambiguous classifications and definitions are essential to ensure that the required information is not lost."
Technically this is not a complicated matter. In human terms, things are far more complex. "The real challenge is convincing people of the relevance of standardization. For example from the perspectives of food safety and consumer confidence. To start with the latter; consumers should be enabled to ascertain what a product contains and where it's from. This is also important in the event of emergencies ánd to gain insight into areas for improvement in relation to food safety and sustainability."
Pilots
In addition to identification codes, GS1 offers and develops standards for recording data about a company or location; the so-called GLN (Global Location Number)-codes. "At Fresh Upstream, the focus is first on getting these GLN-codes to become more commonplace. From there we can continue, step by step, to share more information ánd further down the chain. For example in the form of pilots by which we can show companies how it is done ánd that it pays off to invest in standards. In this way working with standards should spread like an oil slick. "
In the Netherlands almost 20.000 companies use GS1's standards. Worldwide, GS1 is active in more than 100 countries and has 1.5 million participants. "But we need a lot more participants to cope with the food challenges of tomorrow."
Over Fresh Upstream
De stichting Fresh Upstream werkt aan één digi-taal in de internationale agroketen. Doel is een transparante keten voor handelspartners, overheid en consument: van kas tot kassa, van boerderij tot bord. Begrijpelijke en toegankelijke informatiestandaarden via GS1 staan daarbij centraal. Fresh Upstream is in 2018 opgericht door FNLI, GroentenFruit Huis, Frug I Com, CBL, Nevedi, LTO Nederland en GS1 Nederland.